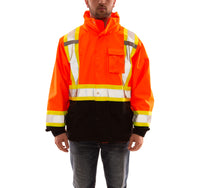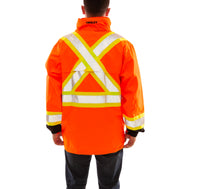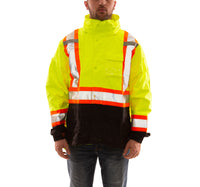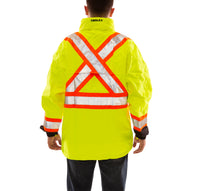 Icon Jacket
ITEM #
J24122C (Fluorescent Yellow-Green)
J24129C (Fluorescent Orange-Red) 

Engineered to provide superior comfort and safety in the toughest work environments

The Icon™ premium CSA Z96 compliant breathable and high visibility jacket – polyurethane on 300 denier polyester. Engineered to provide superior comfort and safety in the toughest work environments.
Ideal Applications: For use in environments where high visibility and breathability are desired for wearer safety and comfort.

● CSA Z96 Class 2 Level 2 compliant for high visibility and breathability.
● Fluorescent background material for excellent daytime visibility.
● Two-tone 2 inch silver reflective tape reflects light for 360° nighttime conspicuity.
● Waterproof and breathable fabric for all season comfort.
● Breathable. Test method ASTM E96.
● Overhead shoulder design for complete freedom of movement.
● Stitched and taped sealed seams for 100% waterproof protection.
● Zipper/storm fly front with throat guard, seals out wind and rain.
● Roll-a-way adjustable detachable hood in collar design for added convenience.
● Full-vented cape back for improved air circulation.
● D-ring access for fall protection harness.
● Mesh/taffeta lining for added comfort.
● Hand warmer side pockets with front cargo pockets and hook & loop closure.
● Convenient front radio pocket with exterior badge holder.
● Inner breast pocket with zipper closure.
● Elastic cuffs with hook & loop take-up straps on sleeves.
● Tapered sweep with adjustable elastic drawcord on jacket for added protection.
● Dark colored front helps conceal dirt.
● 2 Mic tabs.
● Mildew resistant.

Inner attachment system to accommodate Phase 3™ (J25029C), black quilted jacket (J77023C), black fleece jacket (J72023C), or sweatshirt (S78129C).
 

The SYNC System is a collection of interchangeable jackets and liners that provide the user with the versatility to customize their outerwear for their environment.
 

Job Sight High Visibility Apparel - for CSA Z96 Compliance
 

Meets CSA Z96 requirements for high-visibility safety clothing for Canadian workers.
 

ASTM E96 is the Standard Test Method for Water Vapor Breathability.
Customer Reviews
Not that good
Way to expensive for what you get. Hood is of no use. Hood is not warm or protective. Jacket must have liner for any warmth. I use a zip up hoodie sweatshirt for liner.