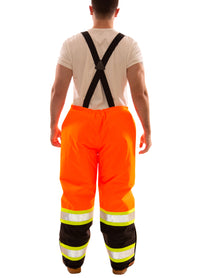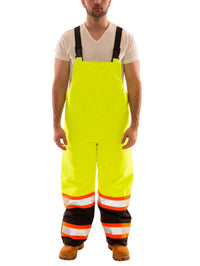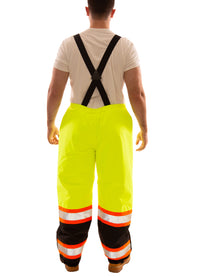 Icon Insulated Overalls
ITEM #
O24322C (Fluorescent Yellow-Green) 
O24329C (Fluorescent Orange-Red) 

Premium, insulated, high visibility outerwear that provides protection in the toughest work environments
The Icon™ premium CSA Z96 compliant insulated and high visibility overalls – polyurethane on 300 denier polyester. Engineered to provide superior performance in harsh work environments. 
Ideal Applications: For use in environments where high visibility, warmth, and breathability are desired for wearer safety and comfort. 

● CSA Z96 Class 3 Level 2 compliant for high visibility when worn with Class 2 Level 2 Jacket.
● Breathable. Test Method ASTM E96.
● Fluorescent background material color for excellent daytime visibility.
● Two-tone 2 inch silver reflective tape reflects light for 360° nighttime conspicuity.
● Waterproof, breathable fabric for all season comfort.
● Stitched and taped sealed seams for 100% waterproof protection.
● 120 gram quilted insulating overalls.
● Snap fly front overalls.
● Heavy duty suspenders with quick release buckles and crossover.
● Hook & loop take-up straps on leg cuffs.
● Zippered side opening on leg cuffs for easy on/off.
● Dark colored cuffs help conceal dirt.
● Take-up snaps on partially elasticized waist for adjustable fit.
Job Sight High Visibility Apparel - for CSA Z96 Compliance
ASTM E96 is the Standard Test Method for Water Vapor Breathability
CSA Z96 - Requirements for high-visibility safety clothing for Canadian workers