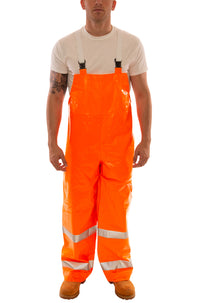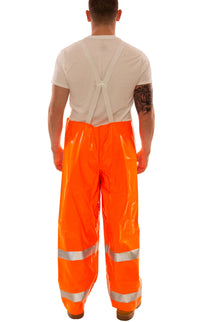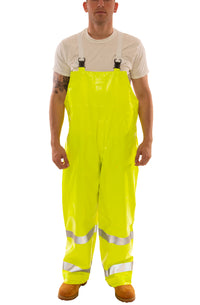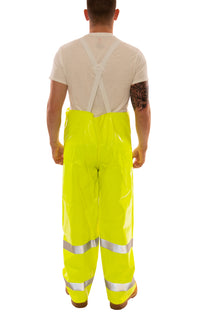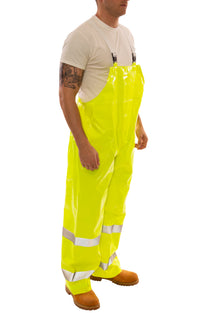 Comfort-Brite Overalls
ITEM #
O53122C (Fluorescent Yellow-Green)
O53129C (Fluorescent Orange-Red) 

The ultimate general purpose rain overalls

Highly visible, flame resistant, and loaded with special features, the Comfort-Brite is lightweight, durable, and affordable.
Ideal Applications: Utilities, Telecommunication, Construction, Transportation, DOT's, Municipalities, Waste Management and General Industry. 
Chemical Resistance: Many acids, oils, alcohols, salts, and alkalies. 
● CSA Z96 Class 3 Level 2 compliant for high visibility when worn with Class 2 Level 2 jacket.
● Loaded with special features for multipurpose applications.
● Fluorescent background material color for excellent daytime visibility.
● 2 inch silver reflective tape reflects light for 360° nighttime conspicuity.
● Suspenders with quick release buckles and crossover.
● Therm-O-Rad sealed seams for 100% waterproof protection.
● Hook & loop take-up straps on ankle cuffs for adjustable fit.
● Non-conductive, non-corrosive hardware.
● Mildew resistant.
● Flame resistant tested.* 
*Self extinguishing with flameout and afterglow less than or equal to 2 seconds after removal of ignition source and char length less than 6 inches. (Test method ASTM D6413.)


Comfort-Brite Spec Sheet         PDF


CSA Z96 - Requirements for high-visibility safety clothing for Canadian workers

ASTM D6413 test method is used to measure the vertical flame resistance of textiles.

Job Sight FR Apparel for ANSI 107 compliant high visibility and flame resistance.