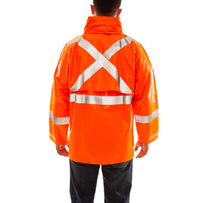 Comfort-Brite Jacket
ITEM #
J53122C (Fluorescent Yellow-Green)
J53129C (Fluorescent Orange-Red) 

The Ultimate General Purpose Rain Jacket

Highly visible, flame resistant, and loaded with special features, the Comfort-Brite® is lightweight, durable, and affordable.
Ideal Applications: Utilities, Telecommunications, Construction, Transportation, DOT's, Municipalities, Waste Management and General Industry. 
Chemical Resistance: Many acids, oils, alcohols, salts, and alkalies. 

● CSA Z96 Class 2 Level 2 compliant for high visibility.
● Loaded with special features for multipurpose applications.
● Fluorescent background material color for excellent daytime visibility.
● 2 inch silver reflective tape reflects light for 360° nighttime conspicuity.
● Full cut shoulder with 90° sleeve to body angle for maximum freedom of movement.
● Therm-O-Rad sealed seams for 100% waterproof protection.
● Zipper/storm fly front seals out wind, rain, and contaminants.
● Non-conductive, non-corrosive hardware.
● Roll-a-way, detachable hood in collar design for added convenience.
● Full-vented cape back for improved air circulation.
● D-ring access for fall protection harness.
● Hook & loop take-up straps on sleeve cuffs for adjustable fit.
● Mildew resistant.
● Flame resistant tested. Self extinguishing with flameout and afterglow less than or equal to 2 seconds after removal of ignition source and char length less than 6 inches. (Test method ASTM D6413.)




Meets CSA Z96 requirements for high-visibility safety clothing for Canadian workers.

ASTM D6413 test method is used to measure the vertical flame resistance of textiles. 


Job Sight FR Apparel for ANSI 107 compliant high visibility and flame resistance.
Customer Reviews
Fantastic rain jacket. Rugged, durable and DRY!
Have a Tingley rain jacket at work. Loved it so much I purchased one for home and personal use. Rain is not getting in and I think the high visibility will be useful so that drivers can see me as I ride in the rain.