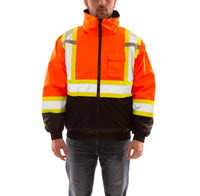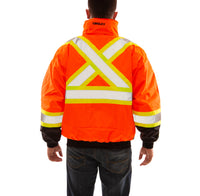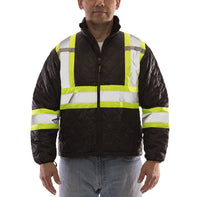 Bomber 3.1 Jacket
ITEM #
J26172C (Fluorescent Yellow-Green)
J26179C (Fluorescent Orange-Red) 
 
CSA Z96 Compliant High Visibility Insulated Jacket with Removable Liner
The Bomber 3.1™
highly visible insulated winter wear jacket designed to provide warmth, comfort and safety at an affordable price. The removable quilted liner system provides warmth, comfort and versatility for varying weather and work conditions.
Ideal Applications
: For use in environments where high visibility and warmth are desired for wearer safety and comfort.
● CSA Z96 Class 2 Level 2 Compliant Jacket for high visibility.
● 100% waterproof.
● Fluorescent background material for excellent daytime visibility.
● Two-tone 2 inch silver reflective tape reflects light for 360° nighttime conspicuity.
● CSA Z96 Class 1 Level 2 Compliant 140g removable black quilted polyester liner provides high visibility and warmth, and can be worn as a stand alone work jacket.
● Shell is made of 210 denier polyester for great wear.
● There are 5 exterior and 3 interior pockets in the shell, while the liner jacket has 2 exterior pockets for added convenience.
● Overhead shoulder design for complete freedom of movement.
● Storm fly front and zipper front closure seal out wind and rain.
● Detachable roll-a-way hood in collar for your convenience.
● Front hand warmer pockets with closure.
● Left breast radio pocket with flap closure.
● Elasticized cuffs and waist for comfortable fit.
● Dark colored front and sleeve cuffs help conceal dirt.
● Stitched and taped seams for 100% waterproof protection.
● 2 Mic tabs on shell and liner.
 


Job Sight High Visibility Apparel - for CSA Z96 Compliance
 

Meets CSA Z96 requirements for high-visibility safety clothing for Canadian workers.